The more businesses rely on the Internet, the more imperative it is to protect and back up your data. An effective data retention policy is essential to any organization. From best practices to government compliance, it is up to you, the business owner, to ensure that your company and client information is safe.

Our Consultants work with you to arrange a data recovery solution in the unfortunate event of a natural disaster, a data compromise or employee mishap. We can help you set up, on and off-line, back-ups to restore your data as quickly as possible avoiding downtime. e-JAM offers cloud services to automate your back-ups from any computer in your organization.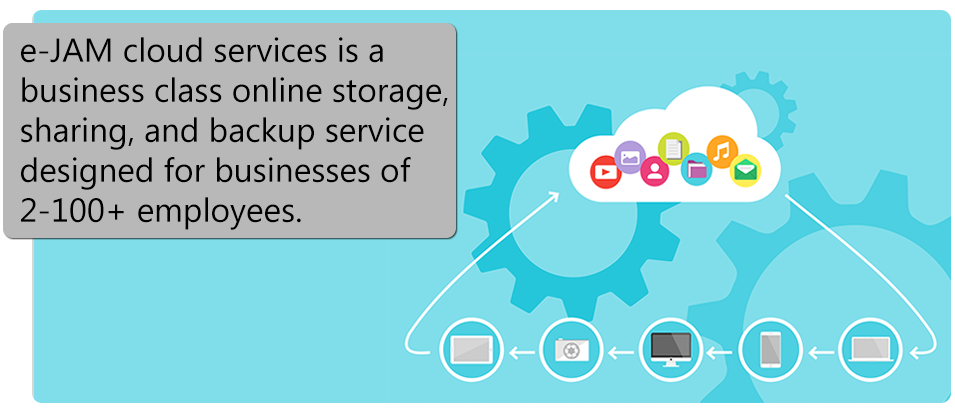 We offer:
• Secure Automatic Backup - allows users to easily backup important data to the cloud in a set- it-and-forget-it fashion. Protect data with AES-256 encryption, using a key that you control.

• Multi-way Sync - allows users to synchronize folders on their computers with folders on a cloud- based network drive - and with folders on other computers.

• Network Drive - gives users a secure place to store and share files as if they were already on their computers. Easily control and limit access for each user.

• Backup History - improves the ability to restore files "as they existed" during a particular backup.

• Web-based Access to Network Drive Files - improves the way users can access files from any web browser anywhere in the world. Access and Manage data remotely using any Mac, Windows, or Linux computer with equal functionality on each platform.
---
 

For Laptops, Desktops, & Mobile

$10.50

per month / per employee

For Windows & Linux Servers

$12.50


per month / per server

Automatic backups keep your data safe plus teams can securely collaborate using encrypted online disks.

Protect data on servers kept at your office, data center or cloud provider with our Backup Vault technology.

Real-time and scheduled backups for Windows PCs or Apple Macs plus secure and compliant online storage for teams

Backup or restore data on Windows and Linux servers through a PC or Macbook central management console

Through our advanced data compression our customers save an average of 30% on download time and storage costs

Protect databases, email servers, and other 24/7 applications with automated task scheduling before and after backup jobs

Backup all your data including network shares, NAS, or external hard drives plus online disks including OneDrive, Google Drive, or Dropbox

Archive business records for years efficiently with data compression, smart file versioning, and adjustable retention policies

Meet regulatory security requirements of HIPAA, SOC2, SOC3, and PCI with Military grade AES-256 encryption and audited data centers

Meet regulatory security requirements of HIPAA, SOC2, SOC3, and PCI with Military grade AES-256 encryption and audited data centers

10GB of FREE storage per client2

10GB of FREE storage per server2

Unlimited FREE data transfer

Unlimited FREE data transfer
EVERYTHING YOUR BUSINESS NEEDS IN ONE EASY- TO-USE, FLEXIBLE, AND SECURE WORKGROUP PRODUCT.

In the information age, collaboration is key. People within a company need to be able to work together on documents of all kinds – and do it quickly – to meet their goals. That's why e-JAM Cloud is an invaluable tool for business. Our file sharing and remote access features ensure uninterrupted productivity between employees both inside and outside the office. Our multi-way sync function means that files are constantly updated as work is done on them, keeping teams in sync as projects develop.

Another key problem is backup. Computer failures, missing or stolen laptops, and corrupted files are facts of life and without a failsafe backup, your business is exposed. e-JAM Cloud users enjoy the peace of mind and flexibility that comes from knowing that their data is secure at the offsite location of a trusted provider with multiple redundancy.

e-JAM Cloud gives companies:
• Secure backup for company data located on employee computers and laptops.
• Secure administrator-controlled file sharing for employees inside and outside the office.
• Secure remote access to employee files from home computers
1. As e-JAM Cloud is designed for 2-250 employee businesses each customer account is subject to a minimum monthly charge of $15 per month. If the total aggregate fees charged for all Services provided by e-JAM Cloud to a customer account in a particular monthly billing period are less than the minimum monthly charge, then the customer will pay to e-JAM an additional fee equal to the difference between the total aggregate fees charged and the minimum monthly charge.
2. Additional storage is $0.25/GB.